Chat: Shared Cellphone Number Visibility + Patient Info Revamp
Release Date

:
07-25-2023
Details: Changes to our chat feature allow you to better engage with your patients who share a phone number, making the chat experience seamless and efficient.
Enhanced visibility into the recipients that share the same number and into the family file, without having to switch from chat to the patient profile
Easier access to the Actions dropdown within the Chat view!
Richer data on patients details such as Head of Household, Point of contact and patient status
Key Highlights
Point of Contact: (POC) for the cellphone number
Recipients: Name(s) of all other patients who also share this cellphone number in their patient profiles
Head of Household (HoH): Crown icon indicating if POC is also the HoH
Status of Patients: Active or Inactive
Family Members: view all other patients within the POC's Family file who share the cellphone number, with a drill-in view of their personal information(1), family members(2), appointment details(3), and the ability to access the Actions menu(4)
Additional Members: view any other patients outside the POC's Family file that share the same cellphone number. Also includes a drill-in view of their personal information(1), family members(2), appointment details(3), and the ability to access the Actions menu(4)
Drill-in View
Waitlist: Openings Automation
Release Date

:
06-22-2023
Details: Our new Waitlist Automation feature Openings allows you to quickly fill any gaps in your schedule resulting from canceled or rescheduled appointments. 🎆🗓️🎆
With the Openings workflow, you'll receive notifications on your Schedule page, which will use the power of your Waitlist to identify eligible patients that match the same Opening criteria. Then all you need to do is send out your mass text to those patients and fill that opening! ✔️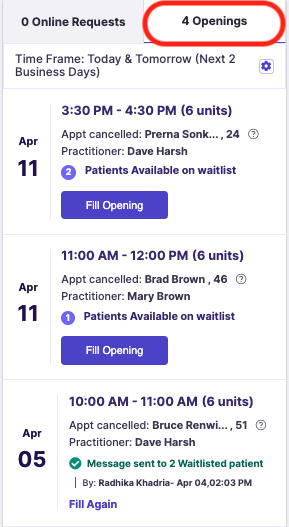 That's right – this feature is going to do all the leg work for you, from identifying eligible patients to removing the notification card once the opening has been filled.
📖Read up on our Knowledge Articles below to get up to date on this new feature:
Online Booking: Updated Verification Message
Release Date

:
05-30-2023
Details:
We heard from practices that some patients did not understand the new text verification process for booking their appointments online. Therefore, we made some changes to the text that is sent to patients, to ensure they understand that this is just a verification code to complete their booking, not a confirmation of their booking request.
Waitlist: Customizable Time Drop-down for Mass Texting
Release Date

:
05-08-2023
Details: As each practice works with different booking intervals, it was important to allow practices to customize the Time drop-down just 30-min increments.
Now, the increments will be set to your practice's Schedule Unit Value, found in the General section of Account Settings. Thus allowing you to further drill-in on available appointment start-times that you can mass text out to your patients.
Example:
Setting in Account Settings > General
Time drop-down when mass texting patients from Waitlist:
Chat: Media Type Preview
Release Date:
05-03-2023
Details: We have now included a preview of media types that are attached to patient chat conversations in the quick view on the left side-bar of Chats.


Patient Timeline: Voice Reminder Activity
Release Date:
05-03-2023
Details: We have enhanced the description on the patient timeline for voice reminders, which now follows the same format as SMS and Email reminders so they are easier to detect.
Waitlist: Enhanced Patient Search/View
Release Date:
02-22-2023
Details: We have enhanced the patient search view when adding in new Waitlist entries. When you have patients with the same name, you can better identify the correct record by seeing their age and last appointment details. This is the same format currently seen in the main search function of the platform.
Online Booking Requests: Improved Functionality
Release Date:
02-22-2023
Details: Previously, when accepting online booking requests, you would have to manually select the practitioner and chair (operatory) before you could add it.
Our improved functionality will now pre-fill this information automatically, based on the request made by the patient.
If the patient selected a specific practitioner during their online request, that practitioner will appear along with their assigned chair.

If the patient selected no preference, based on the availability in your schedule, the suggested practitioner and chair will be pre-populated.
⌛Archived Enhancements
Missed an older update or want to review a previous enhancement?
Click here
to review a full listing of enhancements.
400 Error when attempting to reset Password

Reported: 05/15/2023
Details: Some users report getting a 400 error when attempting to reset their password. This error is due to the password being found in a previous security breach with that email address on another website. Therefore, the user needs to try another password. We will be updating this error wording so that it is clear what the issue is for the user.
Waitlist: Clicking on Edit option does not go away until unclicked again
Resolved: 08/09/2023
Details: When clicking on the Text/Edit/Remove option would leave a pop-up on your screen and would not go away until clicked again. This has now been fixed so when you click on an option, the pop-up disappears immediately.
Unable to mark text messages as Unread
Resolved: 08/02/2023
Details: Users reported not being able to mark text messages as Unread, and instead receive an error. This issue is now resolved.
Waitlist: Reminders removed from Patient Timeline when appointment cancelled
Resolved: 07/27/2023
Details: When an appointment was cancelled, any reminders that had previously been sent are also removed from the patient's Timeline. We have now removed this filter, so that all reminders will show, even if the appointment has since been cancelled.